SEO Tips : How Does Google Rank Your Website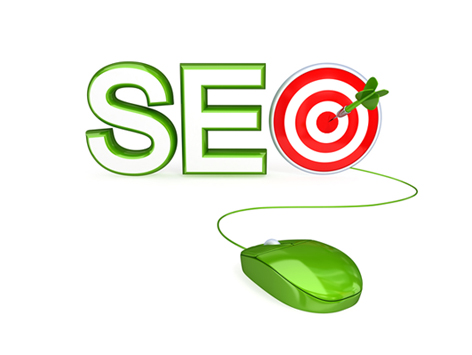 Does Google Publish Its Ranking Algorithm?
We all know that traffic is a key lifeline to your online business and hence many want to learn SEO to drive traffic to your website.
If SEO is your online traffic Strategy, your need to know how Google ranks websites.
However, Google has been very tight lipped on how it ranks websites.  Traditionally, many believe having lots of backlinks is a way to rank but this in fact is a dated SEO Strategy and a mistake you should avoid.
Read : 5 SEO Errors You Should Avoid
Many studies have been conducted, and Scott Tan has also experimented with the latest SEO tips,  ideas and techniques to see which works, and which doesn't, in the light of all the Google Panda, Farmer and Penguin updates – known to some as "Google Zoo" 🙂
Today, we leverage on some useful findings by Searchmetrics study of 300,000 websites.  In their studies, they have compared the statistical correlation of website characteristics and their corresponding Google rankings.
Let's take a look at the results :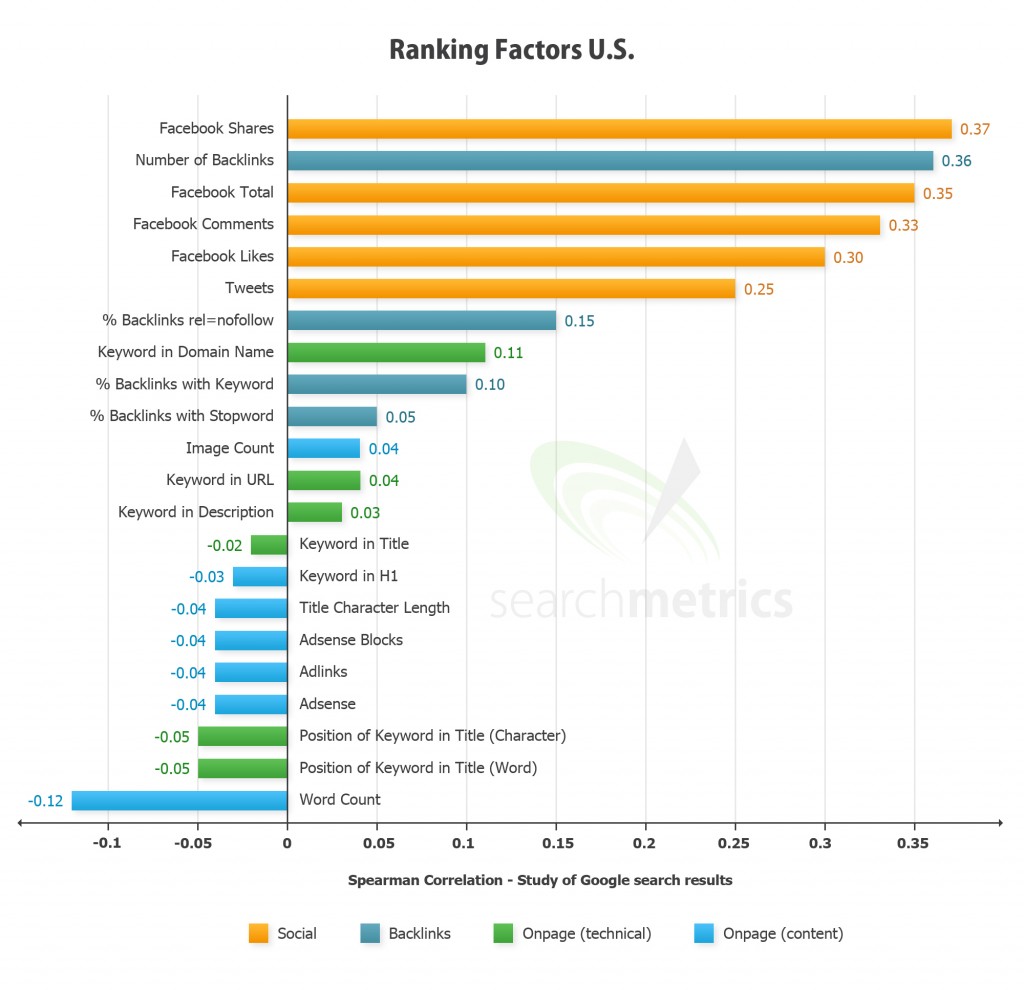 From the graph, it appears that the top 5 factors that have the strongest correlation to  Google Rankings are :
Facebook Shares
Number of Backlinks
Facebook Total
Facebook Comments
Facebook Likes
As can be seen, 4 out of the top 5 ranking factors involve social signals – which up to 2 years ago, did not feature much in the ranking of a website.   This finding reveals an important factor you must consider in your SEO strategy of your online business.
SEO TIP :
You MUST incorporate  Social Signals  as part of your Overall SEO Strategy
Let's take a closer look at what Social Signals are important :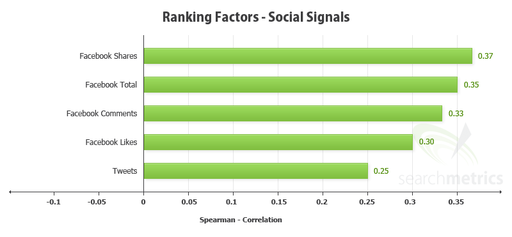 From the results above, it shows that social media signals from Facebook, Twitter & Google + have a high correlation with good rankings within Google search. More specifically, social medial activities such as Facebook shares, comments and likes were frequently linked to high rankings of websites.  Therefore in your SEO efforts, you must pay attention to your Facebook, Twitter and Google+ strategies and link them all within an overall SEO strategy framework.
Note: Searchmetrics also found that Google+1 had the strongest correlation with higher rankings – but the findings of Google+ were not included due to small sample size as Google+ currently does not have enough users.
What Else Must Be Considered In Your SEO Strategy?
When you build your online brand and business, you need to first consider how you will construct and create your website and what strategies you will adopt to drive traffic to your website.  If you are considering SEO as the main traffic source, then it is important you are aware of these factors that impact SEO :
Backlinks – No Longer Just Quantity
Surprisingly, Backlinks remains a key factor in gaining top rankings on Google, just behind the Facebook metrics discussed above.
However, there is a shift towards quality backlinks and very evident in the latest SEO trends in 2013.  This should be good news to many as the playing field beomes fairer to all and to beginners who contribute quality contents but with little backlinks (initially).
In addition,  have a mixture of 'NoFollow' backlinks  in your backlink profile.
Stronger brands require less onsite SEO
Understandably, a website with a stronger brand doesn't need to properly optimize their webpages (title tags, headings etc) in order the rank highly for targeted keywords.  Think of Coca Cola, Apple, Microsoft – their websites do not need substantial onsite optimization.  In contrast, less known brands will need to have more onsite optimisation.
Keyword domains are still important
There is ongoing debate whether websites with keywords in their domain names have an edge over those without.  The finding suggests that Websites with keyword domains often rank highly in the search results for these keywords.
MORE SEO TIPS – RECOMMENDED READING :
What You Need To Know About Google Panda, Farmer and Penguin Updates
5 Most Common But Deadly SEO Mistakes
SEO Tips and Free Online SEO Training
How To Select Your SEO Consultancy Firm
Real Estate SEO Tips and Strategies