SEO Services Singapore
SEO Services by SEO Companies in Singapore
Many of my web design course students repeatedly ask me whether they should advertise or whether they should outsource SEO Services.  Before we talk about the types of SEO Services, let's have a quick understanding of SEO, which stands for Search Engine Optimisation.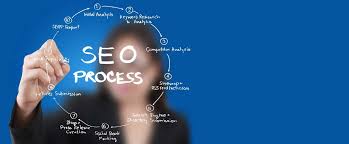 Why SEO or Why Hire SEO Services?
90% of the traffic is found on page 1 of the search engine.  If you want your website to be found, you have to get your website on page 1 either by advertisements (eg Google Adwords) or by apply SEO techniques to your website.  You can outsource SEO by hiring SEO Companies that provide SEO services.  Many of my students who have learnt how to create their website from me either learn SEO and apply SEO on their websites , or advertise.
Benefits of SEO (or SEO Services) include :
Higher Traffic
Higher Sales Conversions
More Targeted Traffic
What is SEO (Search Engine Optimization)?
The professional optimization process of improving search ranking and making your web pages to appear on top of the search engine organic (natural) results with targeted keywords is known as SEO (Search Engine Optimization).  Typically, most people target Google as the main search engine.
SEO has been proven to yield a higher ROI and most cost-effective in terms of getting targeted traffic to your website and acquisition sales leads than any other forms of online marketing available.
Typical SEO Services Offered
Keyword Research
Competitors' Analysis
Website Analysis
On-site Optimization
Content Creation and Copywriting
Backlinking Strategies
Off-site Optimization
SEO Reports
Some SEO companies promise your website to be on page 3 of google/search engine, and takes up to 3-6months.  Typically, it is not a once-off effort and needs continuous effort.  Most SEO consultancy companies are prepared to give you an initial FREE diagnosis of your SEO status as well as your competitors' SEO landscape.   You can sign up to get a FREE diagnosis from these SEO companies and then decide which ones to use.
SEO Services – Average Monthly Costs
Depending on the 'size of your website' – the SEO Companies (Singapore) can charge you for their SEO Services anything in the range of $200-1,000 per month.  Expensive?  Why not consider learning and doing your own at a fraction of the cost?  Here's a cost analysis :
Tradditional Print Ads : $5,000 – $20,000 per month
SEO Services :                    $ 200- $1,000 per month
You SAVE :                          $4,000 – $19,000 per month WITH HIGHER SALES CONVERSION RATES as SEO TRAFFIC is more targeted than traditional print ads
IF YOU LEARN SEO FROM EXPERTS :
You can save on recurring monthly SEO services if you decide to perform the search optimisation efforts yourself.
SEO Training by Scott Tan :                      $1299 (once-off) ==> You SAVE $20,000 monthly
Who is Scott Tan :                                         Businessman turned Internet Marketing Trainer whose unique strength is to make COMPLEX stuff simple for beginners and professionals.   He is found on page 1 of Google for his websites, youtube videos, Google Places listing, and his facebook page.   How did he achieve all these? Join him to learn how to tap on internet to explode your business.
SEO Companies in Singapore Offering Premium Services
The list below is not a representation of quality and market reputation, but merely derived from highly ranked google searches (one may infer they are good at SEO)
 Well, there are hundreds and thousands of SEO companies out there – which one should you get?
Special Tie-Up with a Top SEO Company in Singapore
If you want to have a reliable SEO company, we have a special tie up with SEO companies, known for providing quality SEO services.   Through us, you, our valued client will enjoy value added services include Google Business (a very powerful free directory listing provided by Google that gives your business an online boost).   Stop searching and contact us here :
Related Articles :