Real Estate SEO Tips and Strategy For New Property Launches
10 Real Estate SEO Tips To Optimise Your New Property Launch For Housing Agents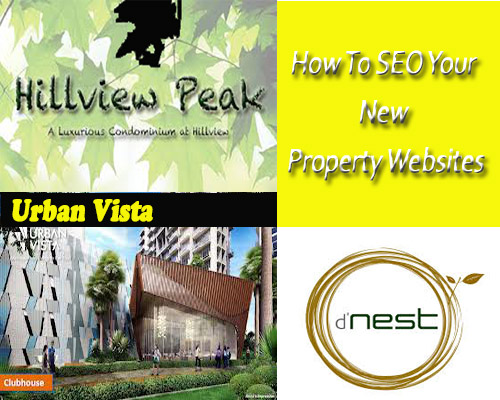 One of the most competitive niches in SEO is in the area of new property launches by housing agents.
According to the National Association of Realtors, 90% of buyers start their real estate search online. SEO is vital to a successful online strategy for both housing brokers and property agents because higher rankings can translate into significant sales increases—especially when each transaction is in the $100,000s.
Real Life Case Study 1 :
Benjamin searched online and found this fantastic WordPress SEO plugin – All In One SEO Pack, which allows him to 'SEO' his website.  He decides to try this SEO plugin and use that to get his website to the top of google searches.
==>Will this work?
Answer :
There are a few hundred factors that Google search engines look at, in order to index and rank your website and your website pages/articles.  The plugin here merely helps to create SEO titles, meta descriptions and keywords.  To successfully perform SEO for your website, you need to consider a host of many more factors.
Read on this article to get more  SEO tips and ideas, or contact <<Scott Tan to attend his monthly SEO Mastery Course (2 Days)>>.
If you are a housing agent or business owner who intends to DIY your SEO efforts, you must do the following :
Real Estate SEO Tip #1 : Do Your Keyword Research
When creating or promoting your real estate website – whether for a new property launch or existing launch, you must first formulate a proper keyword strategy based on your SEO research.  The fastest way? Get Google Keyword tool to help you in your research.  This research will help you tailor your keywords to your desired audience, while increasing your chances of success in marketing these keywords.  You can use these keywords in your domain name, contents, article headings and in many areas.
Real Estate SEO Tip #2 : Build Your Website Using SEO Friendly Platforms
As everyone is spoilt for choices when it comes to using what web design platforms, Scott Tan highly recommends that you use WordPress Content Management System to construct your websites.  Not only is it easy to use – it is extremely powerful as it is integrated with thousands of templates and third party plugins.  These plugins allow you to extend the functationalities of your website.  There are tonnes of WordPress Plugins which are specially designed to improve your SEO too!  Stop hesitating, go ahead and use WordPress to construct your website.  If you need a formal class on WordPress Training, please click here to find out more.
Real Estate SEO Tip #3 : Install WordPress SEO Plugins
These are very useful SEO plugin (some are free but some are payable at low rates) which you can install to improve the SEO of your websites :
– All In One SEO Pack
– SEOPressor
– Social Metrics Pro
– Google XML Sitemap
– Google Analytics for WordPress
– AddThis Social BookMarking Widget
There are many more FREE and powerful SEO WordPress plugins – but get these started for now.
 

Real Estate SEO Tip #4 : On Page Optimisation
This is the most common area of optimisation where you can find lots of online literature.  (In fact, if you attend SEO courses that only last 1/2 day, chances are they will cover this portion at least in detail)
– Put in your targeted keyword in your article title
– Put in your targeted keyword in your article about 3-5 times, if your article is about 500 words, using a keyword density of not more than 1%.  Courses in the past may advocate 3-5% keyword density but given the frequent Google changes to its ranking algorithm, it is not advisable to over-optimise, ie, repeat your keywords too many times and inflate your keyword density.  Click here to read more about the latest Google Trends.
– Use the targeted keyword in the opening paragraph and last paragraph.
– Use related keywords in between your article.
Real Estate SEO Tip #5 : Internal Links – Use Them!
This is a powerful SEO tip that is often overlooked but is incredibly important for search engine optimization. When you create articles (or website pages) that are related to other content on your website, include an internal link back to that blog post or website page.
Real Estate SEO Tip #6 : Create Original and Fresh Content
Google loves original and fresh content that is useful for your visitors.  Avoid copying others' contents.

One classic trip that many people fall into is spending a surplus of time creating relevant content for their website and achieving the desired ranking and then stopping all efforts.  Keep the fresh content coming.
Real Estate SEO Tip #7 : Include Virtual Tours 
The utilization of videos and pictures are incredibly important in increasing SEO for any website and they are especially more important for real estate SEO efforts.  Including virtual tours of the properties you have for sale can actually help increase your search engine ranking while also engaging your potential customers on your website.
Real Estate SEO Tip #8 : Build Backlinks 
Search engines determine the quality of your website is by the number of authoritative backlinks you receive to your website from other quality websites.  These links represent a vote of confidence in your website.  However, you must keep in mind that not just any link to your website will work; instead, they should be from quality websites that are relevant to real estate.   For example, in Singapore, Property Guru is one website where its PageRank score is 6 (considered very high) and hence, and it will offer a good quality backlink to your website.
Although it may be tempting, resist submitting your website to free directories that claim to provide quality backlinks to your website. These "free" backlinks that require little effort often turn away search engines instead of drawing them to your website.
Real Estate SEO Tip #9 : Build Authority and Credibility
There are 33,000 housing agents and real estate professionals in Singapore alone.  Home buyers and sellers have so many to choose from.   You need to demonstrate you are an expert in your area so that your clients and Google will see you in that light.  One way is to build up your social media profiles in a professional manner.    Many people mistake social media to be for fun only.  It is a powerful way to establish your online professional identity, and yet you can do all these for FREE.   It's not difficult to create these online profiles but if you need to spend time to plan how to position yourself in these profiles.   Get your Facebook Pages, Google Plus and Linkedin all up within 1 day with Scott by attending "3-in-1 Social Media Express Course".
To build credibility, you can add testimonials of satisfied clients, and/or include accreditations and certifications to your website.  Add articles that demonstrate your knowledge of the field.
Real Estate SEO Tip #10 : Understand SEO Trends To Future-Proof Your Website
Don't be temporarily swayed by short term Black Hat tactics.  Some of my students, before attending my SEO Mastery course, actually researched online and found quick kill Black Hat SEO methods, like purchasing cheap backlinks from Fiverr.com.    Their tactics backfired and they are now spending time to unravel the work and start from scratch.
As Google pays alot of importance to user experience, your website must create that use experience for your visitors.   Google has been changing their ranking algorithm rapidly – so instead of following every change, understand the direction Google is taking.  Watch this video to understand the general SEO  trends Google is heading :
Who Is Scott Tan
Scott Tan is a seasoned coach and trainer who is ranked either Number 1 or on Page 1 of Google for multiple keywords such as "SEO Training Singapore" "SEO Training Course in Singapore", "SEO Course in Singapore", "Internet Marketing Course Singapore" and many others.   Scott specialises in making COMPLEX stuff simple for Business Owners who have no time nor technical background to learn.   He has trained doctors, dentists, property agents, business owners, real estate agents, homemakers, internet marketers, students.  Join them today!
Other USEFUL Articles On SEO :