Digital Marketing Course Singapore by Scott Tan
Welcome to our Integrated Package of Digital Marketing Courses (Singapore and Malaysia only) by Scott Tan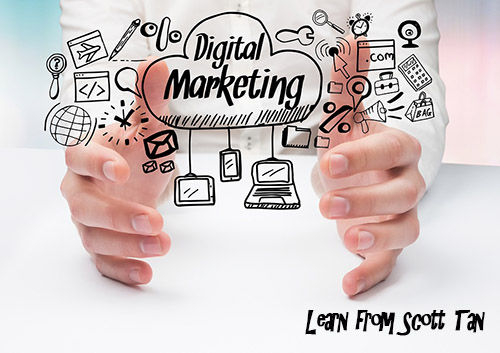 Why You Should Attend This Integrated Digital Marketing Course (Singapore) Bundle:
Your competitors are already using digital marketing – are you?
        Are you losing out leads or is your business having sufficient leads?
How do you get started without incurring too much costs?
This digital marketing course (Singapore) provides a fast track overview of the digital landscape including search engine optimisation, more commonly known as SEO, social media marketing including Facebook Marketing and YouTube Marketing, email marketing, google adwords, mobile, and how digital marketing can lower your business advertising costs, and increase business needs significantly.
We explore the trends in Singapore and around the region, what businesses are doing to increase leads, what new startups can avail themselves to.
The course also addresses the issues and challenges facing agencies and marketers in adapting their organisation to the new digital landscape. Presented from a business owner's perspective – digital marketing is now easily understood.  Many of our clients are business owners, marketing professionals and housing agents/real estate professionals and new business start up owners.
Note: Participants are to bring their laptop for hands on exercises.
Learning Outcomes:
Integrated Digital Marketing Course Singapore and Malaysia Outline:
Introduction to Digital Marketing Course
The ever-evolving world of digital marketing
Digital Marketing Options and Channels for Business Owners
What are your marketing objectives?
Using different tools for branding, lead generation, acquisition, promotions, etc.
Demographics of Your Customer
Who are your target clients?
What problems are you solving for them?
What are people doing online and when?
Examine demographics and segmentation
How to reach out to these clients to let them find you!
The Digital Marketing Integrated Toolbox
Assessing digital tools and the opportunities available to marketers for tools with a focus on:
– Creating your own professional websites
– Search engine marketing (SEM)
– Search engine optimisation (SEO)
– Landing Page & Website Optimisation
– Electronic Direct Mail (EDM) marketing
– Social & Viral Marketing
– Youtube Marketing
Internet Campaign and Media Strategy
Planning, budgeting, measuring and analysing
Key steps in media planning and buying
Planning tools and key metrics used to analyse campaign effectiveness, return on investment and optimising campaign conversion

How To Outsource Your Integrated Digital Marketing Strategy
Planning, budgeting, measuring and analysing
Learning and doing it yourself, versus outsourcing – pros and cons
Integrated Digital Marketing Training by Scott Tan: Case Studies
Review a series of case studies showcasing past unlikely students' successes

Who Will Benefit from Integrated Digital Marketing Training Workshop by Scott Tan?
Most of our participants are driven Business Owners, professional real estate agents, Marketing managers, marketing directors, anyone wanting to learn about digital marketing.  Our integrated Digital Marketing Workshop is designed for participants who want an in-depth understanding of digital marketing and how to harness its power.
Many real estate professionals successfully start their own websites for every new property launch and drive SEO traffic to these new launch websites – you too can learn how Scott Tan has trained these real estate professionals.
Alternatives To This One Day Integrated Digital Marketing Course Workshop
Most of our participants prefer to attend the individual workshops – please see below :
 – Web Design Workshop using WordPress Content Management System (2 days)
–  SEO Marketing Workshop (Search Engine Marketing Course Singapore) – 2 days
–  3-in-1 Social Media Workshop (1 day)
–  YouTube Marketing Workshop (1 day)
Please contact Scott Tan to enquire about the Digital Marketing or Internet Marketing courses at (65) 96307041
OR
whatsapp Scott Tan below IF you are using a mobile smart phone :


Integrated Digital Marketing Course Trainer's Profile:
Scott Tan has over 6 years of digital marketing training experience – he has trained and coached clients on :
Web Design Courses including WordPress Web Design Workshops, Joomla Web Design Workshops
SEO Marketing workshops, both 1 and 2 days of Search Engine Optimisation
Social Media Workshops including Facebook Marketing, Google + Training and Linkedin Training
YouTube Markeing
Both Publicly Run Integrated Digital Marketing Workshops as well as personal coaching for business owners who lack confidence and need tailored personal one to one coaching.